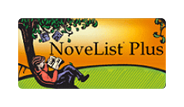 I am going to let you in on a little secret: librarians do not know everything. I know that may come as a shock to you. Librarians don't know everything, but we should know how to find just about anything. To be able to do that, we need great tools. Now available in the eSources, you now have access one of our best kept secrets: NoveList. NoveList Plus is the "premiere database for reading recommendations" for adults, teens, and children for both fiction and nonfiction.
NoveList Plus features include:
Read-alike recommendations
- did you love
The Goldfinch
? Want to read more books like that? NoveList can find read-alikes for you based on what you liked about (time period, mood, author, subject, and more).
Series information - NoveList contains full Series information for over 25,000 series! It also includes series read-alikes, so when you are done with Game of Thrones you can find another series you love just as much.
Reviews - NoveList contains reviews from professional journals (Booklist, Kirkus, Library Journal, Publishers Weekly, School Library Journal), as well as from readers (via Goodreads) all in one place!
Award winners - Every book award that exists (that we know of) -- Caldecott Medal, Pulitzer, Man Booker, etc -- all in one place!
Lists - Top ten, best of, favorites, recommended reading, etc. You will never be at a loss for book to read.
Book Club Guides - Hosting a book club? Many titles include a book club guide with plot, character list, questions (and answers!).
To access NoveList:
1. Go to the
Library Catalog
.
2. Click on
Search
, the
eSources
from the drop down menu.
3. Click on
NoveList Plus
.
4. Enter your library card number.
Now you are ready to dive deeper into books than ever before! For more information about NoveList Plus, read
here
or
contact us
.