The first of the month = First Finds! Here is the latest installment of new and interesting books from the collection.
Paul McCartney : the life
by Philip Norman
Genre: Biography
"Since the age of twenty-one, Paul McCartney has lived one of the ultimate rock-n-roll lives played out on the most public of stages. Now, Paul's story is told by rock music's foremost biographer, with McCartney's consent and access to family members and close friends who have never spoken on the record before. PAUL McCARTNEY reveals the complex character behind the façade and sheds new light on his childhood--blighted by his mother's death but redeemed by the father who introduced him to music. This is the first definitive account of Paul's often troubled partnership with John Lennon, his personal trauma after the Beatles' breakup, and his subsequent struggle to get back to the top with Wings--which nearly got him murdered in Africa and brought him nine days in a Tokyo jail. Readers will learn about his marriage to Linda, including their much-criticized musical collaboration, and a moving account of her death. Packed with new information and critical insights, PAUL MCCARTNEY will be the definitive biography of a musical legend,"--Amazon.com.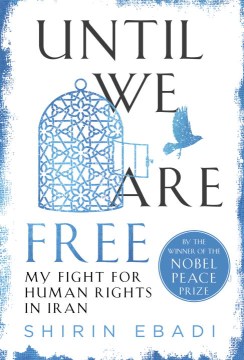 Until we are free : my fight for human rights

in Iran by Shirin Ebadi

Genres: Autobiography/Memoir; Politics and global affairs; Society and culture

"The first Muslim woman to win the Nobel Peace Prize recounts how she endured death threats, false accusations targeting her family, arrests, invasions of privacy, home attacks, office seizures and other harassment from the Iranian government for her work as a human rights lawyer." -

NoveList

FYI

:

Read

here about Shirin Ebadi

and about her winning the

Nobel Peace Prize

.
Redemption Road
by John Hart
Genre: Mystery
"In Hart's new suspense novel, we meet veteran detective Elizabeth Black, who is facing possible suspension for a suspicious shooting. At the same time, former police officer Adrian Wall is released from prison after serving time for the murder of Julia Stange. Stange's son wants Adrian dead. Adrian has always claimed his innocence, but after his release, a couple of new bodies turn up at the church. This is a thrilling page-turner that starts at a rapid-fire pace and doesn't let up. Great book for literary and thriller lovers alike. -- Kelly Currie for LibraryReads."-
NoveList
At the edge of summer

by Jessica Brockmole

Genres: Historical Fiction; Epistolary novels

"Spending a summer in a French château in the aftermath of her father's death and mother's disappearance, 15-year-old Clare befriends her hosts' son, who she reencounters years later during World War I as an angry and devastatingly wounded soldier." -

NoveList

FYI

:

An

Epistolary Novel

is one written as a series of letters.
Zero K
by Don DeLillo
Genre: Social science fiction
"Jeffrey Lockhart's father, Ross, is a George Soros-like billionaire now in his sixties, with a younger wife, Artis, whose health is failing. Ross is the primary investor in a deeply remote and secret compound where death is controlled and bodies are preserved until a future moment when medicine and technology can reawaken them. Jeffrey joins Ross and Artis at the compound to say 'an uncertain farewell' to her as she surrenders her body." -
NoveList
Want more? Click on the "First Finds" label below to see more recommended books.